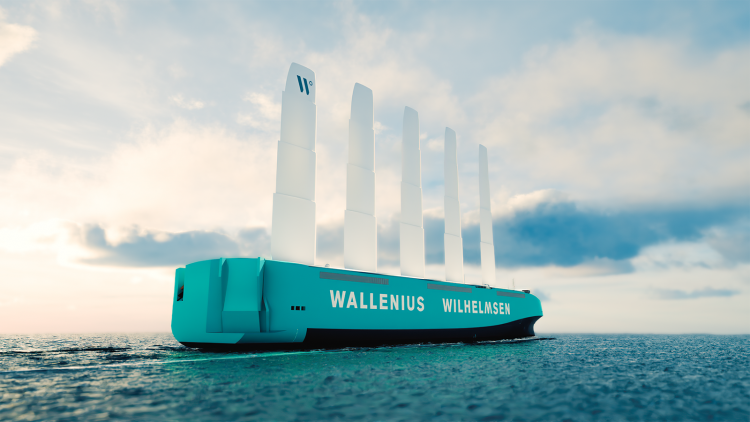 Rotors, sails and different types of wind assisted propulsion systems is coming back. In a recent Tech Update, NCE Maritime CleanTech invited key players to share their knowledge.
The efficiency of wind-assisted ship propulsion can help reduce fuel consumption and emissions from maritime operations. Several different sail technologies are now reaching the market.
In a Tech Update NCE Maritime CleanTech invited all cluster participants to meet leading experts within wind assisted propulsion technologies.
19 knots with rotors
Recently Norwegian Electric Systems (NES) helped install two 35-meter-high rotors, battery systems and a flexible shore power solution on the Sea Cargo vessel SC Connector.
– During tests, the ship has reached a speed of astonishing 19 knots, solely on wind power, Vice President Sales at NES, Stein Ruben Larsen, said.
Exciting new project
Wallenius Wilhelmsen just launched their huge new wind project; Orcelle Wind. The company wants to build a 220 meter long car ship with five retractable sails.
– The ship will reduce emissions by up to 90% relative to similar vessels. And the capacity will be over 7,000 cars, Senior Sourcing & Contracting Manager at Wallenius Wilhelmsen, Lars Dessen, told the webinar audience.
Growing interest
– It seems to be a growing interest for wind assisted ship propulsion (WASP). The result of the tests performed on SC Connector show promising results. Wind technology is independent from onshore infrastructure, this facilitates  a rapid uptake and immediate effects for those who choose to invest in WASP, Project Manager at NCE Maritime CleanTech, Tore Boge says.
Boge is leading the EU funded Ship FC-project and were also the host of the Tech Update.
– Different solutions can be chosen for different ship types, allowing for a wide adoption across all shipping segments. In the Tech Update DNV GL presented their standard and class notation for WASP together with useful insights on how wind technologies can help shipowners meet the increasingly stringent emission requirements which will be put in force from 2023, Boge says.
The webinar also included presentations from DNV GL, Airseas, Sintef Ocean and NCE Maritime CleanTech.
Did you miss the webinar? No worries, as a cluster participant in NCE Maritime CleanTech, you can access the recording anytime you want: Press this link, log in and enjoy.