Collaboration between Høgskolen i Bergen, Fjellstrand og Wärtsilä to find the best possible hull design for zero emission ferries.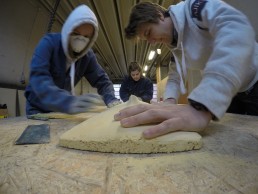 Energy-efficient
Optimal hydro-dynamic solutions
Zero emissions
Design for reducing emissions
The main focus in this project had been to find the best solution for hull design for zero emission ferries. New regulations demands energy-efficient and environmental friendly solutions.
In this project students with Marinteknikk at Høgskolen i Bergen developed models and tested different hull alternatives.
The project were funded by Innovation Norway through NCE Maritime CleanTech.
The project were finished in 2016
100%