The green revolution in the Norwegian fjords are currently creating great interest in international media. The Norwegian ferries are portrayed as the first step towards a decarbonized, international shipping industry.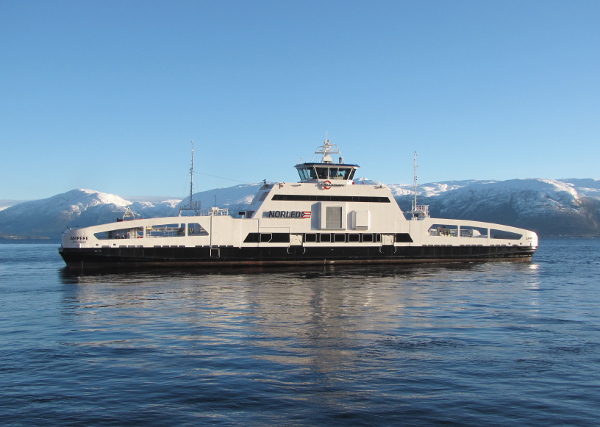 With our more than 1000 fjords Norway's road infrastructure is a network of tunnels and hundreds of short ferry services to connect communities. Norway is also a big offshore and shipping nation, with the world's 4th largest fleet.
The recent years we have seen a growing awareness of the environmental impact of maritime transport, and an increasing political pressure to clean up transport in the country.
–  This has led to a revolution in transport power and a burgeoning maritime cleantech cluster in the country.  It was positive state and industry backed encouragement that saw Norway lead the way with LNG-fueled shipping from 2000 and it is now leading the way with battery powered shipping, writes online shipping news and analysis service Fathom.
The International Council on Clean Transportation warns sea transport could be responsible for 17 percent of CO2 emissions by 2050, up from 2-3 percent now. The push towards solutions that can allow ships to reduce their reliance on fuels like diesel and heavy fuel oil are prevalent.
–  And nowhere is this push more prevalent than in Norway. The country's fjords are its biggest tourist attraction, maintaining a clean image is increasingly important and this is now leading some to look to this Scandinavian country as a poster boy for a clean and, in particular, decarbonized, international shipping industry, writes journalists in Bloomberg Businessweek, Mikael Holter and Jeremy Hodges
Ferries leading the way
In Norway the ferries have been the first step towards cleaning up the world's shipping fleets.
–  Ferries are a perfect place to start since they often travel only short distances and stay for relatively long periods of time at the same ports, where they can be charged, says CEO of NCE Maritime CleanTech, Hege Økland.
The first zero-emissions ferry was commissioned by Norwegian shipping company Norled. MF "Ampere" started sailing between the villages of Oppedal and Lavik along the Sognefjord in 2015. Data from MF Ampere has shown that the ferry has cut carbon emissions by 95 per cent and operating cost by 80 per cent compared to its traditional fuel-powered counterparts.
As a direct result of the technology demonstrated by Ampere the Norwegian Parliament made a resolution in 2015 saying that all upcoming ferry contracts should have low or zero-emission technologies. Now about 60 battery-powered or hybrid ferries will be in operation by 2021, and the technology is rapidly spreading to other sectors – and countries.
International growth
There are currently 185 battery-powered ships in operation or scheduled for delivery worldwide in 2018, most are in Norway and France, according to classification and assurance Company DNV GL.
– The Norwegian ferries aren't driving the market for maritime batteries anymore. They were, but now we see great interest from all types of shipping companies and vessel types from many countries and regions, said CEO of the Maritime Battery Forum, Sondre Henningsgård, to trade magazine Teknisk Ukeblad.
–  We are seeing more and more vessel types going electric for maritime transport, such as offshore vessels, fishing vessels and fish farm vessels. In a recent project in our cluster one of the world's largest construction vessels "North Sea Giant" was equipped with battery packs. The vessel is now in operation as a hybrid vessel with batteries as its most important energy source, says Hege Økland in NCE Maritime CleanTech.
So, what's next?
While battery technology has been demonstrated as an excellent choice for short sea shipping, the technologies haven't yet evolved enough for long ocean voyages.
– To really slash maritime pollution would require the 50,000 tankers, freighters and carriers traversing the oceans to switch to renewable energy. The largest use diesel engines as big as a four-story house, with emissions comparable to 64,000 passenger cars, writes Mikael Holter and Jeremy Hodges in Bloomberg.
Hydrogen-powered fuel-cells are by many seen as the fuel with the highest potential to decarbonize also larger vessel types and longer voyages. Also in this area Norway is leading the way.
–  In 2016 the Norway Public Road Administration launched a contract for a hydrogen electrical ferry, the world's first of its kind. The ferry shall be in operation from 2021, and the maritime industry are now racing to develop the best solution. Other initiatives have also been launched such as the Viking Cruise newbuilding due for delivery in 2020, and a high-speed passenger vessel that will be in operation in Trøndelag county, Norway from 2021, says Økland.