Cluster partners in NCE Maritime CleanTech are involved in four revolutionary hydrogen projects that has been awarded funding from the public support scheme PILOT-E.
This is yet another confirmation of our partners world-leading position within the development of new green solutions for the ocean industries. All four projects will make a big and important contribution to the green technology shift in the maritime sector, says NCE Maritime CleanTech CEO, Hege Økland.
Six ambitious and innovative projects have been granted in total 107 MNOK in public support to develop solutions for zero emission maritime transport and the future's climate neutral industry through the PILOT-E scheme. Of the 107 MNOK 71 million is awarded to four maritime projects.
Partners in NCE Maritime CleanTech are involved in all four:
Zero emission fast ferry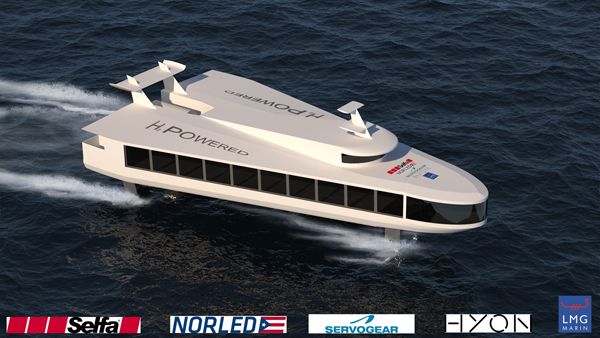 Selfa Arctic, Norled, LMG Marin, Hyon and Servogear has been awarded 10.5 MNOK to develop a zero emission fast going passenger vessel. The vessel will be able to run on both batteries and on hydrogen, depending on the route. It will be market ready in 2020.
Zero emission Flying Foil fast ferry 
Flying Foil will lead the project to develop a zero emission fast going passenger vessel, together with NTNU and cluster partners Brødrene AA and Westcon Power & Automation. Also this vessel will be able to run on both batteries and on hydrogen, depending on the route.
Hydrogen operation for Coastal Route vessel
Havila and Havyard together with Sintef Ocean and cluster partners Norwegian Electric System and CMR Prototech has been awarded funds to power one of their Coastal Route vessel with hydrogen. This will allow for ten hours of zero emission sailing from 2022, which equals half the coastal route from Bergen to Kirkenes. Never before have vessels of this size sailed with zero emission over such long distances.
Project SeaShuttle – Zero emission coastal freighter with automated cargo handling
The project goal is to develop and realize profitable emission-free container transport for short-sea market based on hydrogen and fuel cells. The ship concept will be moving transport of cargo from road to sea and will include autonomous cargo handling in achieving cost-effectiveness. The project is owned by Samskip AS, and cluster partner Hyon is one of the suppliers also in this project.
– We're very proud to announce our participation in these projects. The projects will develop unique solutions for two very interesting maritime markets for hydrogen; the high-speed craft market and the short-sea freighter market. The award shows that Hyon with owners possess technology and competence that are attractive for the maritime market, and that the shipping industry is gaining momentum in driving green solutions, triggered by the PILOT-E scheme," says Tomas Tronstad, Managing Director of Hyon.
About PILOT-E:
PILOT-E is a cooperation between Innovation Norway, The Norwegian Research Council and Enova. It was started in 2015 to accelerate the green shift by accelerating the development from idea to market. PILOT-E coordinates the available financial support schemes to give improved predictability closer follow-up and stronger coordination.