One of the world's largest chemical tanker operators, Odfjell, has joined NCE Maritime CleanTech to explore technological opportunities and seek cross-sector collaboration.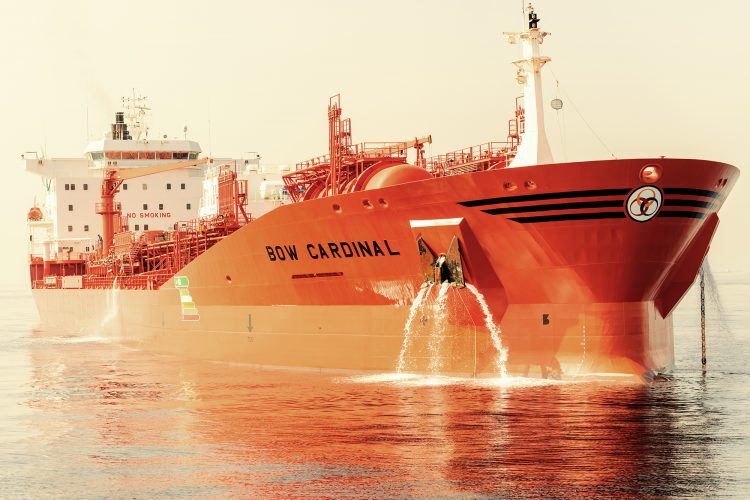 The Bergen based shipowner and operator Odfjell was accepted as a cluster partner in March 2019 and will strengthen NCE Maritime CleanTech within the deep-sea, long haul segment.
– We see that there is a lot of activity going on in the region, for instance with hybrid and electric ferries. Batteries are something that we have ruled out for our fleet until now, but the technology is becoming more efficient, and we follow the development closely. We would like to learn more about the cluster companies' experiences with batteries. We are also looking into alternative fuels such as LNG and hydrogen, says Erik Hjortland, Vice President Technology in Odfjell.
Odfjell already has a significant voice when it comes to sustainable shipping.
– We have a multitude of ongoing improvement initiatives that each corresponds with one or more of the 17 UN Sustainability Development Goals, and with proven effects, Hjortland states.
Believe in knowledge-sharing
Odfjell has more than 2500 employees, 16 international offices and headquarters in Bergen. The company operates a fleet of around 80 chemical tankers around the world, and owns approximately 40 ships. The team in Bergen is continuously involved in innovation projects, often in collaboration with local expertise or academia.
– The maritime cluster of companies on the west coast is very important to us. Taking part of this network gives us an opportunity to learn from each other and find new solutions together. As one of the leading deep-sea operators in the chemical segment, I also hope that we can contribute to the NCE Maritime CleanTech cluster. We really believe in knowledge-sharing in a cluster environment, the Odfjell Vice President Technology says.
Operational improvements across the fleet
Most of the products we use in our everyday life are made by using chemicals. The 600 different types of chemicals and liquids that Odfjell transports are building blocks for medicines, clothes, PC's, phones, makeup, car parts – to name a few. With a large fleet of ships, sailing long distances, the potential for energy savings is huge.
– In the past 10 years we have improved the energy-efficiency of our operations significantly. On the fleet managed by Odfjell, our energy efficiency operational indicator (EEOI) is improved by 30 percent. This means that to transport one ton of cargo one nautical mile now requires 30% less fuel than in 2009.
This indicator takes into account everything we do when it comes to energy-efficiency: fleet renewal, retrofits, fuel saving solutions, how we operate and utilize the vessels etc., the VP explains.
Odfjell has, among other initiatives, collaborated with SINTEF on a propulsion improvement project that achieved significant fuel savings and reduced emissions.
– Basically, we did modifications on the engines and shaft generators to better fit the operational speed of the vessels, and redesigned the entire propeller system. We have documented that these initiatives reduced the fuel consumption by more than 20%. We hope that being a part of the cluster will generate further innovation projects, Hjortland says.
Odfjell never stops hunting for fuel savings or other ways of improving the company's bottom line and its environmental footprint. Most of the development is done in-house.
– We have most of the technical expertise we need in-house. One of the advantages of being an integrated company is that we can move quickly and put new solution to the test early on.
Controlling their own data
The most important thing about digitalization for Odfjell is that it should solve real problems, and enable us to make faster and better decisions.
– It is not a target to have fancy equipment, but to fully take advantage of the potential in the data. To do that, you need a decent system architecture, an efficient data acquisition and validation solution, and a business intelligence tool to manage the data. Last but not least, you need a competent team to analyse and explore the potential of digitalization and data. Data in itself has no value, it is what we do with it that makes the difference.
– With an analytical approach, we are more confident that we are doing the right things. We gather and combine data from many sub-systems. This gives added value in terms of increased safety, reduced fuel consumption, and improved maintenance, in addition to serving our customers more efficiently, Erik Hjortland says.