One of the newest cluster members, LOS Gruppen, is perfectly positioned to utilize on the fast-expanding green, maritime industry, onshore and at sea.
LOS Gruppen is a group of energy related tech companies headquartered in Bømlo, south of Bergen in Norway. They provide a wide range of technologies and solutions within renewable power transmission and distribution, building technologies as well as solutions for maritime and offshore applications. They were accepted as a member of NCE Maritime CleanTech in June 2019.
– For us NCE Maritime CleanTech is all about innovation, and we appreciate having such a thriving environment within reach of our  business. We are convinced that many cluster participants find our solutions useful, and I am sure that our companies will find partners with complementary technologies and knowhow within the cluster, says Chairman of the Board of Los Gruppen, Arne Mæland.
Looking for potential projects
Powered by the green transition, the speed is high, and innovative power is key in the Norwegian maritime industry at the moment. Mæland believes that LOS Gruppen will find several attractive cluster projects to participate in.
– There is so much going on right now, and I don´t think we have ever worked this hard. We have three main focus areas. First of all, we have on-board technologies for electrical and hybrid vessels. Secondly, we have our shore power and vessel charging solutions. The third main area of our business is high voltage. We have an international reach and provide products and services for onshore and offshore projects all over the world, he explains.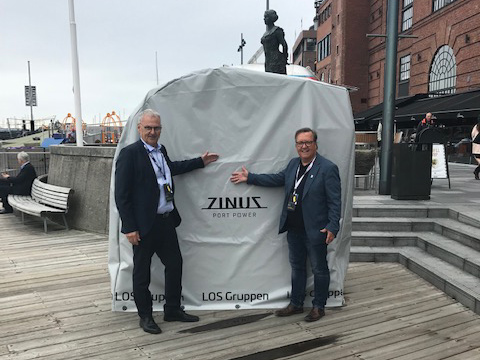 Power from shore breakthrough
One of the fastest growing companies in LOS Gruppen are their fully-owned Zinus subsidiary, specialising on shore power connections to electric vessels. They were recently awarded one of the largest ever onshore maritime infrastructure orders in Norway. According to the contract with ferry operator Norled, Zinus will provide 38 units of their SwingConnect autonomous shore power connection system, including 16 large charging poles named Zinus Port Power 700.
– We are really proud that a major player like Norled has confidence in our technology. We look forward to providing the first installation to the electrical ferry on the Utbjoa-Sydnes crossing, which is close to our facilities on the west coast of Norway, Managing Director Finn Inge Langeland of Zinus explains.
Improved innovation
He is eager to exploit the opportunities that lies in the NCE Maritime CleanTech membership.
– Being part of NCE Maritime CleanTech is really 'bull's eye' for us, as we are targeting the maritime industry and want to power the green transition. We expect growth in this sector, and we are proud to say that our products are entirely developed and produced in Norway and that all of our value creation stays in Norway, Langeland says.
He also sees great potential in co-operating with Sustainable Energy Norwegian Catapult Centre, which was established by the cluster in 2018 supported by Siva, a public funding organisation for innovation.
– They provide us with local test and verification infrastructure for our renewable energy solutions. This is important to speed up the innovation process and will enable us to develop better products that increase our competitiveness, Langeland says.