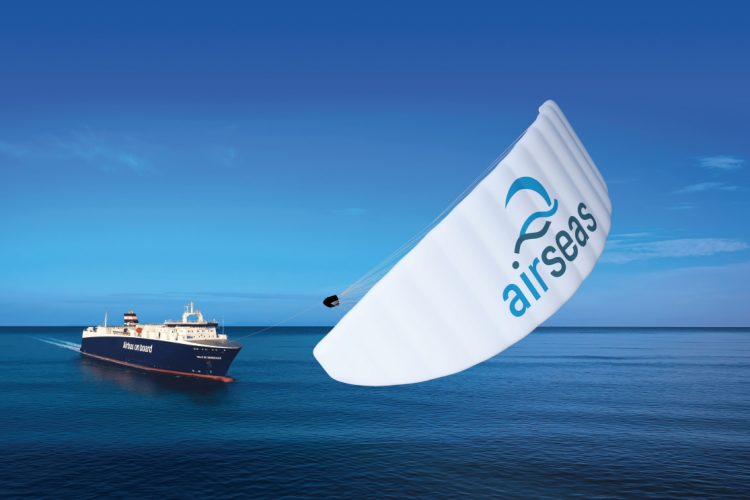 By using a kite Airseas wants to reduce fuel consumption and emissions by 20 percent on long distance vessels. The new NCE Maritime CleanTech partner has received its first orders for the company's ground-breaking wind propulsion technology.
The French company Airseas is an Airbus spin-off that wants to help ship owners reach ambitious IMO targets with their Seawing concept, an autonomous kite that exploit the free energy of the wind. Airseas believe they can cut 20 percent of the vessel´s fuel consumption and emissions on average by using a large kite.
– We are happy to become a part of NCE Maritime CleanTech. We learned about the cluster at Nor-Shipping this year, when our booths were only a few steps apart. The Norwegian maritime industry is very innovative, and we know that they share with us the key value of protecting the environment, Business Development Manager, Luc Reinhard, says.
Interested in development projects
Airseas already has close relations with cluster member and design company LMG Marin. Now they look forward to learning from other cluster companies and to contribute to one of the most forward-leaning maritime environments, where mitigating climate change is one of the main drivers.
– We would like to take part in innovative projects and studies where our technology is relevant. Many of the cluster companies have products that are complementary to ours. We also want to contribute to communicate green, maritime solutions to the global market. On our side, we wish to be a door opener for Norwegian companies, especially in the French market, Reinhard says.
One of NCE Maritime CleanTech's strengths is the political work, providing local and national authorities with knowledge about what the industry is capable of. This is to help them to make the right sustainable decisions for the future.
– We find it interesting that the cluster has a political team working with politicians and international organizations. Airseas was already looking to work closely with authorities to introduce them to the Seawing concept, its features and its ability to contribute to fulfil environmental objectives. With help from the cluster and its members we want to increase the awareness about wind propulsion technology as it is very rarely considered as a solution alongside alternative fuels or electric solutions, Reinhard says.
Released by the press of a button
The Seawing concept is basically a huge kite that pulls the vessel forward by utilizing wind. It is suitable for most vessels but will have most impact for long distance ships. The kite is easy to retrofit and to switch between vessels. The crew will receive a signal when kiting conditions are good, and a press of a button will release the kite.
The autonomous system collects relevant ocean, weather and ship data in real-time. This ensures maximum safety and gives the ship operator full control of the kite and savings. It also enables route optimization, allowing the captain to exploit wind opportunities along the way.
The largest ever alternative propulsion contract
The potential performance of the Seawing concept has raised quite a few eyebrows in the deep-sea sector. After the Nor-Shipping exhibition, Airseas has their hands full with following up leads. Their main focus now is to deliver on the first two orders that they received.
The first customer is their mother company Airbus, that has ordered a 500 square meter kite that will be installed on a RoRo ship in 2020. The second order is placed by the Japanese deep-sea operator "K" Line for up to 51 installations, the first due in 2021, making it the largest alternative propulsion contract ever.
– Our company is now picking up pace. We are enthusiastic about the upcoming first commercial flight of our autonomous kite. This will be a major step for us, and we look forward to showing the world what the kites are capable of and how they can help ship owners cut costs and emissions, Luc Reinhard says.
Airseas was accepted as a member of NCE Maritime CleanTech in August 2019 and is the second foreign addition to the cluster after Ballard  joined this summer. Internationalization is an important part of the cluster strategy for green tech expansion.