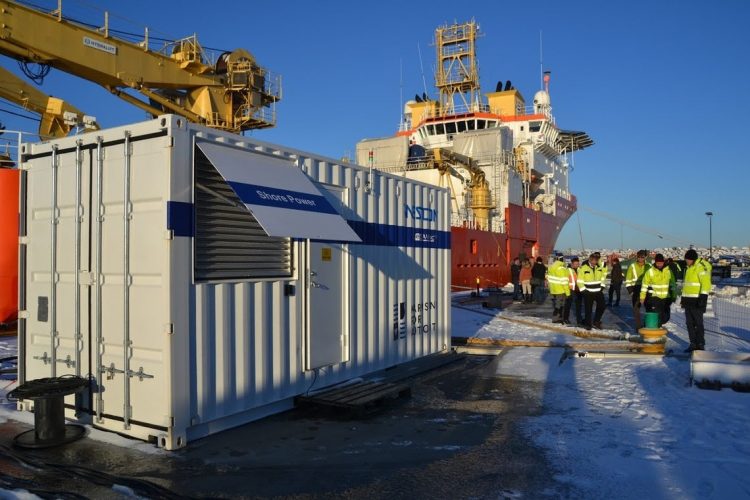 In the cluster's Shore Power Expert Group NCE Maritime CleanTech has gathered forces to speed up the development within shore power solutions and take the lead in a large international market. The group is open for NCE Maritime CleanTech cluster-members.
The global shore power market is expected to grow steadily the coming years. The Western coast of Norway is well-positioned to take a leading role in the development of shore power technology. No other countries have the same scope of charging solutions for ferries and larger ships. Here you also find world leading suppliers of the relevant technologies. This combination is pointed out as unique:
— Norway is important for the "electric car revolution" as we buy a lot of electric cars. Norway and especially Western Norway can make an even bigger contribution in electrifying shipping, because of our world leading industries and our competence, says leader of the Shore Power Expert Group, and special advisor in BKK, Thor André Berg.
Huge interest and great potential
One example of companies now utilizing the opportunities in a growing market is cluster partner and shore power supplier Zinus. After just a few years of operation Zinus has become a leading supplier of innovative Cable Management Systems for shore power and charging connections for the shipping industry. Since 2018, the rapid development has given the company a continuously growing order backlog, with deliveries to both Norwegian and European ports. Zinus' sustainable energy solutions have also aroused global interest, and the company is currently in dialogue with potential customers in Europe, Asia and the USA.
— The interest is huge, and we believe that there is a great potential for further growth world-wide. Our solutions are at the technological forefront, and we are contacted by world-leading players from all over the world, from Alaska to New Zealand, says CEO in Zinus, Finn Inge Langeland.
Shore power as an addition to other zero-emission fuel types
Even though zero-emission fuels like ammonia and hydrogen will be essential in the future maritime sector, experts believe that shore power will be an important addition due to the relatively low cost.
— We believe that shore power will be a part of the solution since it is energy efficient and will be very competitive in ports that have a minimum of traffic, says Berg.
Powerful alliance and insightful discussions 
The Shore Power Expert Group consists of developers, suppliers, and end users, making the topics and discussions highly relevant for a broad range of stakeholders. Examples of companies represented in the expert group are Plug (BKK), Westcon Power & Automation, and several ports like Bergen and Haugesund.
The goal of the expert group is to contribute to a more environmentally friendly shipping industry and value creation in the respective businesses, by increasing the pace and spread of shore power for port stays and charging. The expert group is an arena for sharing experiences and knowledge that promotes the development of technology and the market for shore-side electricity, as well as contributing to the development of policy, government frameworks, standards and more through joint work.
— The discussions so far have been very insightful, and we are planning to organize at least five expert group meetings in 2021, says Director of Business Development in NCE Maritime CleanTech, and coordinator for the expert group, Geir Odland.
Kickstarting 2021 by inviting more cluster members to join
Interested in joining the Shore Power Expert Group? Please let coordinator Geir Odland know. E-mail: Send e-post