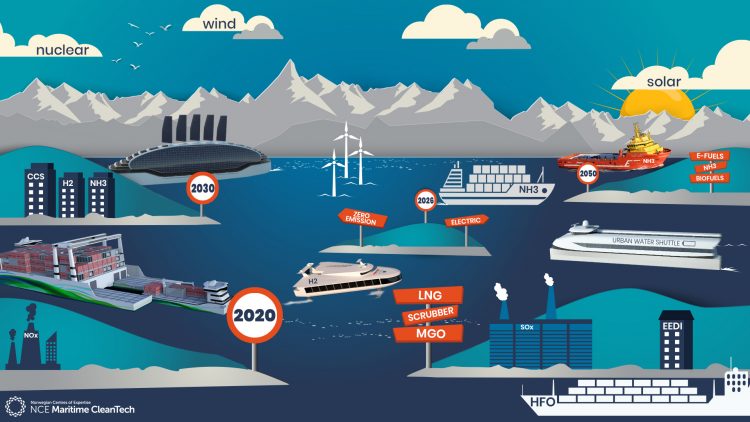 This decade is labeled as crucial for decarbonizing the maritime industry. Maritime Cleantech's political expert group is well-positioned to influence national and international framework conditions that will enable a green maritime shift. 
Global and national agreements have set ambitious goals for decarbonizing the maritime industry. The International Maritime Organization (IMO) has set the target of cutting CO2 emissions from international shipping by at least 50% by 2050, compared to 2008 levels, with carbon intensity reduced 40% by 2030. Also, the EU member states are most likely to introduce even more ambitious targets. Several stakeholders are working actively for a carbon-neutral maritime industry by 2050.
— If shipping is to become carbonneutral by 2050, technology must be commercially available from 2030. This means that the next decade is extremely important to achieve the system change and innovations we need, says Chairman of the Board in NCE Maritime CleanTech, Bjørn Sundland.
A valuable contributor
NCE Maritime CleanTech established in 2018 a political expert group to push framework conditions and support schemes that ensure a domestic market for green innovation and technology development in the maritime industry. The expert group meets five times a year to discuss current affairs and the cluster partner's views. The expert group members are also involved in the cluster's political dialogue with politicians and bureaucrats.
This dialogue has resulted in new measures and initiatives on both local and national level. For example, the cluster has for years pushed politicians to set specific emissions targets for all sectors, and now we can see the results in several Norwegian white papers like the Maritime White Paper and Climate Plan 2021-2030,.
— The cluster is seen as a valuable contributor among politicians and bureaucrats. We are regularly contacted to express our views on related matters and to share our knowledge about technology developments, says Sundland.
2021: national election in Norway and EU-processes
In 2021 Norway can potentially get a new government, and new MPs will be elected. Both are important events for NCE Maritime CleanTech and will influence the cluster and cluster partners. NCE Maritime CleanTech has recently developed a new strategy, which states that the cluster will still work be present in the Norwegian political arena but it will also to a greater extent seek to influence European and global framework. Examples are the processes connected to the Green Deal and Taxonomy for sustainable activities.
To accelerate the cluster's international political impact, Maritime CleanTech recently joined Waterborne TP which has been set up as an industry-oriented Technology Platform to establish a continuous dialogue between all waterborne stakeholders, such as classification societies, shipbuilders, shipowners, maritime equipment manufacturers, infrastructure and service providers, universities or research institutes, and with the EU Institutions, including Member States.
Do you want to be part of this important work? Join us. 
The group consists of members in leading positions from companies and organisations across the maritime value chain. On behalf of the cluster, the group defines the focus areas of the cluster's work on the political scene. The expert group is always looking for engaged representatives from cluster partners to join.
If you have questions, please contact Director Public Affairs, Marie Launes: Send e-post