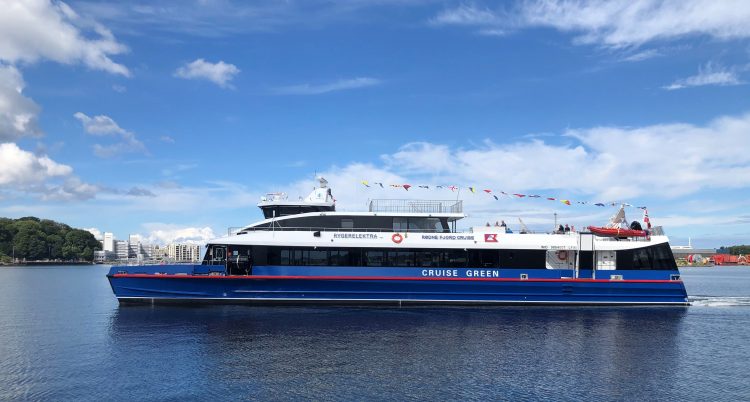 RINA, Auxios, Heinzmann, Argeo, SeaTracker, SES-X Marine Technologies, Herde Kompositt and Rødne have all joined Maritime CleanTech during the last month, ready to explore new technologies and innovation collaboration.
Norwegian shipowner Rødne, based on Sjernerøy island near Stavanger, is Norway's biggest family-owned express boat company. Rødne's fleet of 15 vessels includes the 297-passenger, emission-free MS Rygerelektra electric sightseeing catamaran, launched in 2020 as the world's fastest and longest-reaching battery-powered boat of its kind.  
The company, with more than 60 years of experience, aims for being a leader in eco-friendly boat transport. 
Ragnhild Steigen, Rødne's technical manager, said, "We have the vessels and are eager to try out new and emission-free solutions." 
Time is right for cluster collaboration
"This is the right time to join Maritime CleanTech for innovation collaboration. The whole maritime value chain is facing the same challenges; we must cut emissions, and we must do it fast;" Steigen adds. "By joining the cluster, we hope to connect with other cluster partners to develop new technologies and join innovative projects." 
Rødne operates high-speed and traditional ferries as well as ambulance boats. Over the past 20 years, it has invested over a half-billion Norwegian kroner in new solutions, including swapping out old engines with cleaner new ones, that cut fleet emissions by 75 percent. 
Ragnhild Steigen hopes Rødne's long experience as a shipowner and a maritime innovator eager to test new technology also can benefit other cluster partners.  
"Nobody knows exactly what kind of fuel, ship design or propulsion system the future will bring," Steigan says. "But I am sure we will find the best solutions together by collaborating." 
Stronger together 
In addition to Rødne, seven other new cluster partners bring valuable knowledge to Maritime CleanTech on the path to an emission-free maritime sector. 
SeaTracker offers efficient and cost-effective software solutions that provide a fully automated security system for ferries and high-speed vessels. They also provide solutions that give the captain full control of operating data and have solutions for remote controlling autonomous vessels.   
Heinzmann provides complete turnkey solutions for electronics, automation and control systems, delivered to merchant marine and navy vessels. Heinzmann has more than 30 years of experience as an expert in the field of marine automation. 
Classification society RINA offers a wide range of consultancy within shipping and industry, including consultancy on future fuels as hydrogen, ammonia, methanol and batteries. 
Argeo aims to transform the ocean surveying and inspection industry by utilizing autonomous surface and underwater robotics solutions. 
Auxios is an early R&D company that is focusing on commercialization – looking to accelerate the green revolution on water.   
Herde Kompositt develops and equips the world´s largest lifeboats for Palfinger. They also develop closed fish farms for the aquaculture industry – all in composite.
SES-X Marine Technologies is an R&D company that is focusing on commercialization. They are looking to accelerate the green revolution on water, and have a special energy-efficient hull technology.
Meet cluster partners at CleanTech Labs 30th September 
Have you registered for CleanTech Labs, taking place in Rosendal 30th September-1st October? Here all our cluster partners are invited to join discussions on challenges in parallel workshops, dedicated to the energy transition in the maritime industry. Secure your place now: Register here.