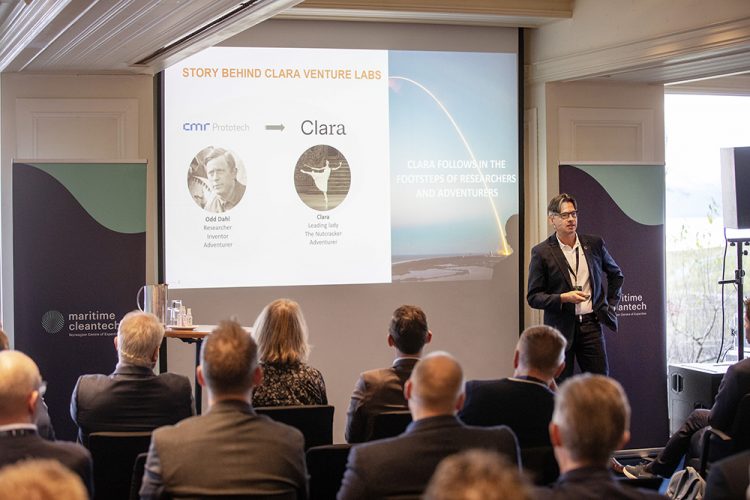 Last month we welcomed Clara Venture Labs, Hydrogenious LOCH Maritime, Parat Energy, Oker Energy, and MH Partners in the cluster partnership. Now the cluster has 144 committed partners. 
Long-time R&D cluster partner Prototech was sold from NORCE to Aker this summer. Together with their new owners, they have now launched a new company – Clara Venture Labs.  
Clara is a venture platform backed by Aker where great minds are given the resources, they need to make their visions for the future a reality. 
– This new venture can be a game-changer for accelerating the move to zero-emission shipping. Aker is investing heavily in this, and I think the knowledge and competence of the 30.000 Aker-employees who now join our team, can help us both develop and implement new technologies much faster, says the CEO at Clara Venture Labs, Bernt Skeie.  
Skeie was also the CEO of former Prototech. Clara is now planning to launch several new ventures under the Clara umbrella. One of them, Alma, will be a key provider of zero-emission energy solutions for maritime, offshore and land-based applications. Prototech´s fuel cell research and technology will enter the Alma venture, making Alma the new partner in the EU-funded Ship FC project. 
Liquid organic hydrogen as a zero-emission solution 
Hydrogenious LOCH Maritime joins Maritime CleanTech with their expertise within emission-free onboard propulsion systems. With their first of its kind liquid organic hydrogen carrier/fuel cell solution, Hydrogenious aims to pioneer a viable path to zero-emission shipping. Their powertrains will be ready for operation from 2025, on a megawatt scale. 
Hydrogenious` emission-free propulsion system will integrate three core components on-board: The LOHC Release Unit, releasing the hydrogen from the liquid organic carrier Benzyltoluene on-demand on the ship, a fuel cell and an interface to the ship´s power management system.  
New players 
Newly founded Parat Energy aims to deliver services within energy efficiency for different segments within the maritime sector.  
Oker Energy is pioneering subsea pumped hydro storage into industrial to grid scale batteries for the global electro-fuel production market.  
Law firm Myklebust Hatlebrekke Advokatfirma (MH Partners) offers corporate law services with a strong focus on sustainability. Both partners, Cecilie Koch Hatlebrekke and Linda Rudolfsen Myklebust, has broad experience from shipping and offshore.