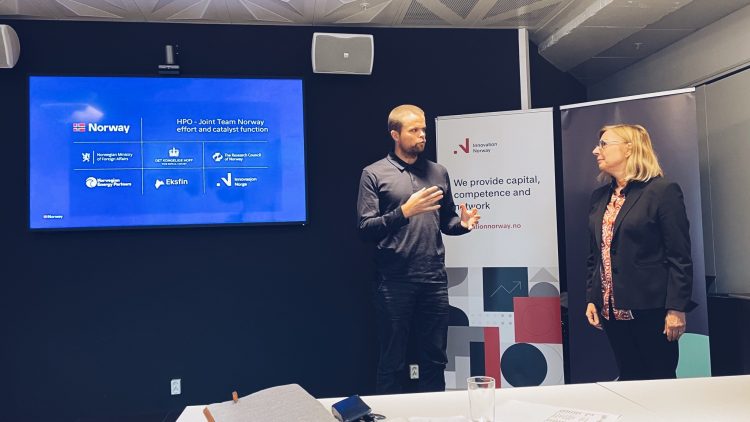 Meeting with our industry partners in Bergen 27 October, Innovation Norway launched their new study of the French, Italian and Spanish markets for electric and hybrid vessels.
With the increased focus on the scale-up and commercialization of green solutions for shipping, Maritime CleanTech has engaged Innovation Norway in a market analysis of Southern Europe. For years our partners have developed and piloted new technologies, which are now more than ready for export.
Starting with Italy, France and Spain, Innovation Norway has mapped out the maturity of the markets, infrastructure and access to energy, customer groups and purchase systems, competitive situations, and potential cooperation partners. The emphasize has been on battery-electric and hybrid vessels.
–  In the last 5-6 years, there has been a large-scale electrification and hybridization of ferries, service- and offshore vessels in Norway. The technology has been verified and scaled through a close cooperation between the public and private sectors in the home market and has great international potential as a result of global and regional climate targets, especially in the EU, says Håvard Tvedte, interim CEO in Maritime CleanTech
Today the results were presented to the Maritime CleanTech partners during a seminar in Bergen. Three different reports provide insight to projects and tenders relevant for Norwegian companies.
From the Italian Innovation Norway office, Department Head Heidi Dahl highlighted the export opportunities that arise when the European countries work with the Fit for 55 package – aiming to reduce emissions by 55 percent within 2030:
– Environment and sustainability are now paving the way for ambitious investments in the green shift and decarbonisation of many industries in a number of EU countries. Maritime transport is a very energy-intensive sector with significant emissions. Several measures have been taken or are planned to be introduced at European and national level to achieve reductions in carbon emissions in shipping. Here, Norwegian business can contribute.
Maritime nations in need of new solutions
Each report provides separate conclusions for the three markets. In summary, they all point to an important shift towards greener solutions for maritime transport.
In France they have passed several laws committing them to a green transition. With the French Relance Program promising over 650 million euros for decarbonizing the maritime sector and a dedicated hydrogen strategy for ships and ferries, ambitions for the maritime sector are high. France is one of the most important maritime and river transport markets in Europe with 564 ports, 360 million tonnes of processed goods, 30 million passengers per year, 560 registered merchant and service vessels and more than 1,000 river transport ferries.
Similar trends are found in the Italian market. The country is considered a major shipping and passenger hub, with a strategic position at the center of the Mediterranean Sea. With an annual turnover of around 6 billion euros from the nautical industry, shipping accounts for a large part of the national economy. The national green shift in shipping is further strengthened by a number of funding opportunities through the National Recovery and Resilience Plan (PNRR).
The Spanish government has allocated 310 million euros for financing a restructuring and strengthening of the maritime value chain. In addition, nearly 7 billion euros have been set aside to help promote the transition to clean energy through the development of the hydrogen industry in Spain. With a coastline of 7 800 kilometers, Spain is considered a maritime nation. Large ports move over 540 million tons annually, and together with a new interest in offshore wind power, the maritime sector is one of the most relevant for the Spanish economy.
On behalf of our partners, Maritime CleanTech can play a role in following up on the leads mapped in the analysis. Please contact Project Coordinator Tonje Hovland on tonje@maritimecleantech.no.