The Norwegian Parliament has adopted a resolution to halt emissions from cruise ships and ferries in the Norwegian world heritage fjords as soon as technically possible and no later than 2026. This will make the fjords the world's first zero emission zone at sea. The decision will have a positive impact on the local population, transport and tourism, climate and the environment, and the maritime industry.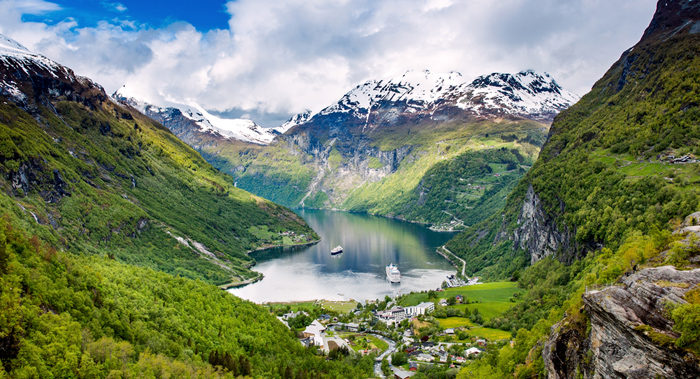 "For the first time in the world there is a requirement for emission-free sailing in the fjords and their harbours.  Norway has long been a world leader in emission-free ferries based on sound political decisions on zero-emission requirements. Now the country is taking a step further in the maritime green shift, with global repercussions.  At the national level, this will mean a welcome development towards emission-free solutions on many tourist ships, a significant decrease in greenhouse gas emissions and a halt to harmful local air pollution," says Marius Holm, head of the environmental foundation ZERO.
Good opportunity for the maritime industry
The maritime industry is also enthusiastic about the decision.  Hege Økland, CEO of the maritime industrial cluster NCE Maritime CleanTech, says the decision will be of great significance for the industry.
The Norwgian Parliament implementet in 2015 decided that all ferries in new tenders must have low or zero emission technology. This has led to an electric revolution in the Norwegian fjords, as more than 60 electrical ferries will be seaborne within the next few years.
"Norway has become a world-leading maritime supplier of low- and zero-emissions solutions. The decision on zero-emission fjords can secure our industry's position in this area, so that Norwegian business will be strengthened and we can provide good solutions also to the rest of the world," says CEO Hege Økland.
Coastal operator on the offensive
Havila Holding AS, one of the operators to ply the coastal route between Bergen and Kirkenes from 2021, believes it is perfectly possible to have emissions-free ships and ferries in the Norwegian fjords within a few years. "Havila welcomes this decision, and not a moment too soon. We'll be ready to sail emissions-free in the fjords as early as 2021," says Per Sævik, CEO of Havila.
The resolution passed in Parliament on Thursday May 3rd reads as follows:  "The Parliament calls on the Government to implement requirements and regulations for emissions from cruise ships and other vessels in tourist fjords, as well as other suitable measures to ensure the phasing-in of low- and zero-emissions solutions in the shipping industry until 2030, including a requirement for zero emissions from tourist ships and ferries in the world heritage fjords as soon as feasible and no later than 2026."
Joy in the fjords
The Norwegian fjords are a huge and popular tourist attraction, and one of those most visited is the Geiranger Fjord in Møre og Romsdal.
Last year, Geiranger had over 300 000 cruise passengers and this huge traffic has led to high air pollution becoming a major problem for both tourists and residents.  Measurements show that air pollution in the village is periodically so high that it can be a health hazard.
"Tourists come to see pure nature, not fjords full of exhaust.  Norway also has an international responsibility to manage its world heritage sites.  We have long been seeking concrete action, and are therefore very pleased with this decision on emissions-free fjords," says Katrin Blomvik, director of the Geiranger Fjord World Heritage Foundation.
A renewable future
The decision means in practice that all cruise and tourist ships currently sailing along the coast of Norway immediately have to plan for how to halt emissions.  Existing ships must be equipped for electric propulsion with battery packs and, in the future, hydrogen.  Several new ships already have, or are planning, such solutions. In addition, onshore power will be needed in ports to enable ships to recharge when docked.
Emission-free tourist ships are already a reality, as exemplified by the recently completed all electric tourist ship "Future of the Fjords".  It was built in Hyen by Brødrene AA for the Fjords, and will be used for tourist traffic between Gudvangen and Flåm in the Nærøyfjord, which is also a world heritage fjord.