The use of lightweight materials is an important element in reducing emissions from shipping. In January NCE Maritime CleanTech brought cluster members to Denmark to learn from front runners within material technology and production methods.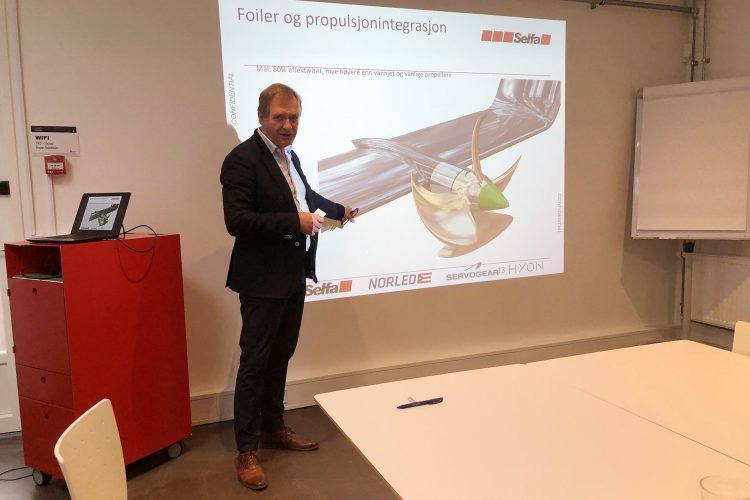 To increase energy efficiency the weight of materials used is becoming increasingly important when constructing new and greener vessels. The electrification of different vessel type has accelerated this trend; as the lighter the vessel is, the longer the battery range will be.
In February several cluster partners joined NCE Maritime CleanTech in a tech update tour to our sister cluster Danish Materials Network (DMN).
– We need to gain more knowledge about how materials behave and how to handle them more efficiently. We believe that this knowledge will materialize in a more extensive use of light-weight materials and lower production costs in shipbuilding. We had a very interesting visit and were taken good care of by DMN and their cluster companies, delegation head and Project Manager Paul Helland of NCE Maritime CleanTech says.
Front runners in material technology
Company tours, workshops and presentations were the important components of the journey. The first company visit was at Migatronic , an expert in welding robots and automated welding processes. The tour also took the Norwegian delegation to Terma, a manufacturer of products to the space, security and defence industries. You can find their carbon fibre parts amongst other in the F-35 stealth fighter produced by Lockheed Martin. SH Group is a company that specializes in hydraulics, but they also offer custom-made offshore cranes, bridges and hangar doors built in aluminium. The fourth destination of the tour was Secure aluminium, a foundry specializing in low pressure casting of parts for the automotive industry.
– In addition to the materials themselves, our cluster companies were particularly interested in production methods, including welding. It is impressive how these Danish front runners in material technology are able to keep efficiency high and error rate to a minimum. They achieve excellent results also in processes that are not easily automated, Helland explains.
Understanding material better

During the workshop, Erik Ianssen from Norwegian shipyard and cluster participant Selfa Arctic spoke on behalf of NCE Maritime CleanTech. He focused on the environmental aspects of shipbuilding and choice of materials and shared insight in how we work within the cluster and with other stakeholders in the maritime industry. Joining him on the tour were cluster colleagues Leirvik and Marine Aluminium. FORCE Technology, an expert in automating welding processes, and Tuco, a supplier of carbon fibre workboats held presentations on behalf of the Danish cluster.
– Whether you have electric or fossil fuelled propulsion, energy-efficiency is crucial to achieve benefits such as reduced emissions and cost-cuts. Better understanding how materials behave and how to use them more efficiently, will help us make transport at sea greener, Paul Helland says. '
NCE Maritime CleanTech will arrange a similar event in Norway for the DMN and it's cluster companies. The focus on lightweight materials is a part of the cluster's strategy for increased internationalization, and the aim is to explore opportunities for common innovation projects.