Cluster partner Blueday Technology wants to play a leading role in the green transition of the aquaculture industry. They are now in the final stages of full-scale testing of a new energy concept for off-grid fish farms, harvesting energy from sun and wind stored in batteries.
West Coast based Blueday Technology use their leading energy experience to bundle low voltage shore power solutions for vessels and leads the way into hybridizing systems for the maritime and aquaculture industry. It is exiting times for everyone involved in sustainable technologies.
– We see a growing demand for energy-saving systems and fuel-efficient solutions for a range of applications, that being a vessel, oil rig or a fish farm, CEO Hans Petter Heggebø explains.
– Our focus is energy management and fuel reduction, often achieved with hybrid solutions. One of our strengths is that we are an independent system integrator. We focus more on the system design and optimization of the electric system rather than the products, he says.
Innovative fish farming
Blueday sees a huge business potential in helping the aquaculture industry reducing their environmental footprint. Providing shore power through a cable is the classic solution, suitable for many locations along the coast. But there is still a need for renewable off-grid solutions for the most remote locations and future offshore fish farms.
The Stavanger headquartered energy expert is currently performing full-scale tests of an energy system, including wind turbines, solar panels and battery storage at a Grieg Seafood fish farm in Rogaland, Norway.
– We have been developing this scalable off-grid fish farm concept over time, and we are confident that this is an ideal solution for many locations. The tests have already produced some interesting results, and we are now finetuning the system, Heggebø explains.
If not powered from shore, the feed barge on a fish farm usually gets its energy from an onboard diesel generator. According to a report from Bellona and ABB, 50 percent of all feed barges are receiving electricity from the grid, but the remaining sites are responsible for emitting 220 000 tons of CO2 each year.
– It is not necessary to have a diesel generator running around the clock when you only need power for six to eight hours while feeding. A fish farm has low, but variable power needs, which can be provided with batteries, Heggebø says.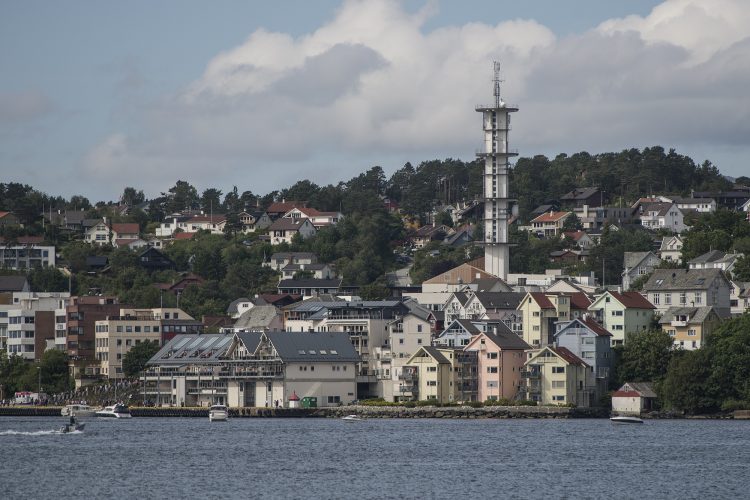 Three shore power contracts
Blueday recently won three shore power contracts with the busy ports of Moss, Egersund and Leirvik. Shore power enables vessels to turn their fossil fuelled engines off while at port,  reducing emission of climate gases, local pollution and at the same time eliminating noise.
– These three contracts are milestones for us. We have been reluctant to entering the shore power market due to heavy price pressure. If you reduce price too much, you will have to compromise on quality. We have seen this in the early stages of shore power development, where many ports have encountered challenges. Now it seems that the port authorities have gained more experience, collaborate more and put more weight on quality and technical solutions, the Blueday CEO says.
The turn-key contracts include everything from the plug and cable, transformers, low voltage cabinet, grid connection and control system.
– We have a robust, standardized and scalable low voltage solution suitable for most ports. Today we mainly power offshore vessels, but we se a growing number of vessels able to make use of power from shore, Heggebø explains.
Diesel ferry goes electric
In Q2 Blueday will have completed the hybridization of a diesel-powered ferry that will become the second electric ferry on the Lavik-Oppedal crossing of Norway's longest fjord, the Sognefjorden. The delivery includes the onshore grid connection. There will be hybrid solutions both on shore and on board the vessel.
– We have modified the vessel and will install batteries and other electric components this spring. Modifying the vessel is quite straight forward, but the weak power grid in the area is a challenge. We use batteries to boost the charging from the mainland grid. There is a complex installation of batteries, drives and software needed to control the load flow, Hans Petter Heggebø says.