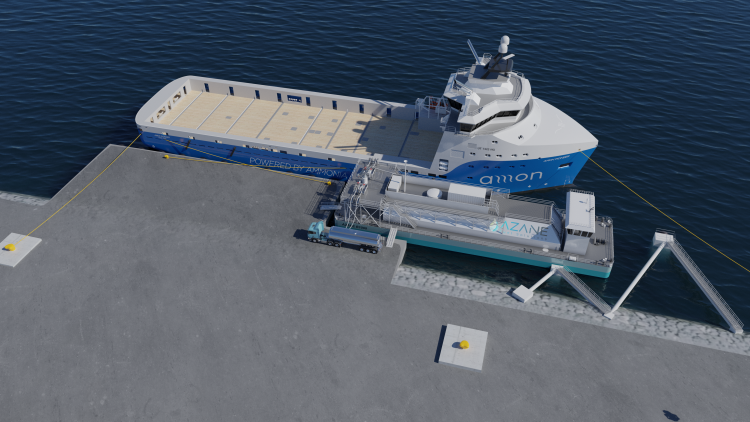 Amon Maritime joins Maritime CleanTech with a clear goal; Pioneering the use of ammonia as a fuel.
– We want to take lead in the transition towards green shipping, and joining Maritime CleanTech can be an important step on the way, says the CEO at Amon Maritime, André Risholm.
The Sandefjord-based project development company was founded in 2019 and has already started and partnered up with several companies to achieve their goal of becoming the world´s first carbon-free shipping company.
– We believe we must solve the chicken or the egg dilemma to implement future fuels in shipping. That's why we´re developing a whole value chain for ammonia. We are creating ammonia bunkering terminals in close collaboration with ammonia providers and fuelling locations in Azane Fuel Solutions, and we are bringing ammonia-powered ships to the market in close collaboration with offshore oil&gas and short sea bulk clients in Amon Offshore and Viridis Bulk Carriers.
New value chain
Along with ECOnnect Energy, Amon Maritime owns tech company Azane Fuel Solutions, which develops turn-key terminal solutions for ammonia fuel bunkering. Both floating and land-based shore solutions.
Through Ula Ship Management (owned together with Bernhard Schulte Shipmanagement), Amon Maritime will provide ship management services for the Norwegian market, specializing in technical and crew management solutions for various types of complex vessels. The management company will also be the in-house manager for Amon Offshore.
– Our focus is 100% on the green transition in shipping. We think pioneering the use of ammonia as a fuel across ship newbuilds, ship management, technology development, and bunkering infrastructure is the recipe for success, Risholm says.
Well-funded
Amon Maritime has already started several large consortium projects together with value chain partners. They want to develop platform supply vessels for the Norwegian Continental Shelf and bulk carriers for the North European Short Sea Bulk market.
Some of the projects have received funding from Norwegian funding schemes.
– Even though we have separate projects focusing on new builds and bunkering, the projects are still very much connected. We aim to have a complete approach to ammonia as a fuel. With our supply base partners (for example Fjord Base, offshore base in Florø, Norway) and Yara Clean Ammonia, we can offer both ships and fuel to decarbonize offshore logistics for energy companies, Risholm states.
Collaboration with clients is also a key factor in developing Viridis Bulk Carriers. The "FlexBulk" project, supported by the Norwegian Pilot-E scheme, has 8 client partners, including companies like Elkem and BioMar.
– With Navigare Group and shipowner Mosvolds Rederi, we will have five new ammonia-driven bulk carriers operating within 2026 in Viridis Bulk Carriers, Risholm says.
Full throttle
Interim CEO at Maritime CleanTech, Håvard Tvedte, is impressed by the ambitious new partner:
– Amon Maritime is the kind of shipowner we need for geeting pace on this green transition. Instead of focusing solely on zero-emission shipping, bunkering, or ship management, Amon Maritime is developing a completely new value-chain for implementing ammonia in shipping. This is exciting and can prove to be a game changer for eliminating emissions in offshore operations, says Håvard Tvedte.
– Maritime CleanTech is an exciting meeting place. We believe we can strengthen our visibility and find new partners to collaborate with, says Risholm.