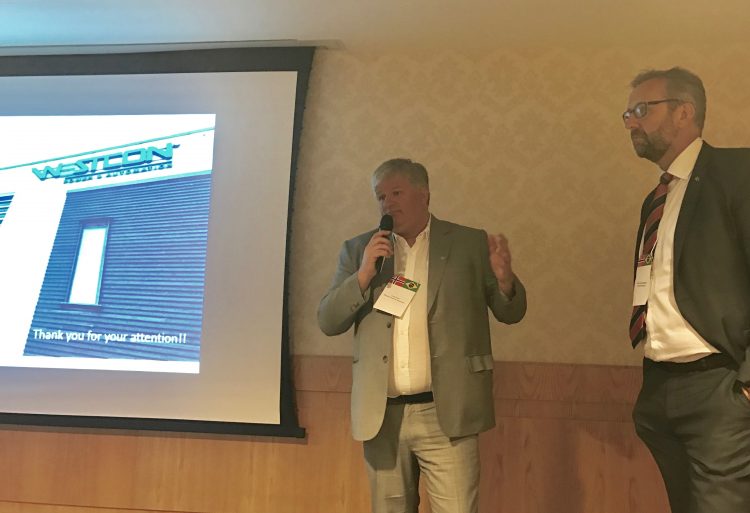 Satsinga på elektrisk og hybrid framdriftsteknologi møter stor interesse ute i verda. Innovasjon Norge sitt Brasil-kontor har invitert NCE Maritime CleanTech til Brasil denne veka. Her skal me fortelja om korleis me gjennom klyngesamarbeid utviklar nye grøne løysingar til maritim næring.
I går blei det arrangert eit seminar i Rio de Janeiro med tittelen "Sailing on a green wave – Electrification and cost reduction in the maritime sector". Her møtte 40 representantar frå brasilianske rederi, utstyrsleverandørar og klasseselskap. Fleire representantar frå norske selskap som er lokaliserte i Brasil var også til stades. I tillegg var det representantar frå det norske handelskonsulatet, Eksportkreditt og Innovasjon Norge. Frode Skaar frå Westcon P&A haldt innlegg på seminaret og presenterte erfaringar med hybridifisering av offshore-fartøy. Erik Ianssen frå Selfa fortalde om den norske "revolusjonen" som skjer på ferjesida og utviklinga av batteri, mens Hege Økland viste korleis passasjertransport kan gjerast effektivt og klimavenleg med Urban Water Shuttle.
Brasilianarane ser stor verdi av å vidareutvikla elvar og sjøvegen som samferdselsåre i Brasil med låg- og nullutsleppsløysingar, og dei vil gjerne møta fleire av våre klyngebedrifter under NorShipping 2017, fortel Hege Økland. No reiser den norske delegasjonen vidare til hovudstaden Brasilia for å møta politiske styresmakter og byråkratar. Her skal dei fortelja meir om norske erfaringar med tilrettelegging av offentlege innkjøp og insentiv for nye, grøne maritime løysingar.