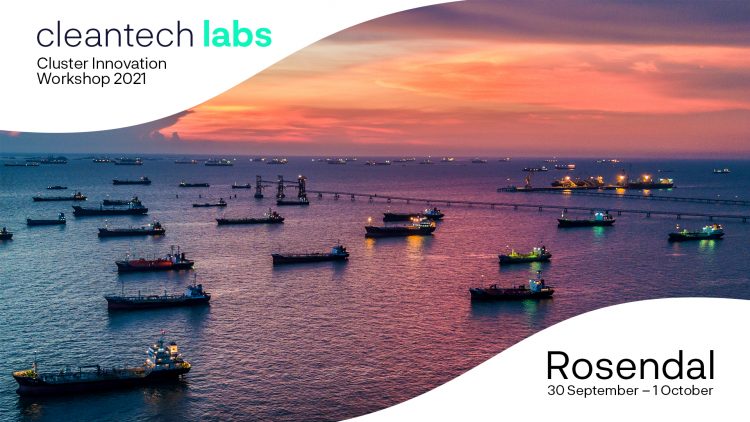 The 2020s is the decade of transformation. This year's cluster innovation workshop in Rosendal, CleanTech labs, will be dedicated to joint problem-solving to set the pace of the energy transition in the maritime industry. Maybe your idea turns into the next pioneering cleantech project?
Maritime CleanTech's annual workshop in Rosendal is an important innovation arena for all companies in our cluster. From September 30th to October 1st participants from different parts of the value chain will once again gather to define new strategic actions and innovation projects for the cluster.
– Projects initiated in Rosendal have in recent years resulted in breakthrough initiatives that have gained broad international attention and financial support from both national and EU funding schemes. Examples are zero-emission cruise concepts and our EU project ShipFC. This event is thus THE place to be for companies seeking new opportunities and new partnerships, says CEO in Maritime CleanTech, Hege Økland.
In Rosendal, participants will meet to discuss challenges in parallel workshops. Which lab you choose to enter, is optional. Where can your company make an impact? In which segment do you want to develop new and green innovations? Sign up now!
The largest ships which represent 20 percent of the total shipping fleet, count for 80 percent of the energy consumption and hence emissions from shipping. So, if we can make these large deepsea vessels more energy-efficient and replace the use of fossil fuels, we can make an impact in meeting international climate goals.
There are no single solutions to reduce these emissions. Technical, operational, regulations and financial barriers need to be overcome. In addition, new fuels must be made available at the right scale and cost. However, the ship owners, the commercial operators and the cargo owners will all face stricter regulations and increasing pressure and attention from regulators, consumers, investors and finance institutions to report energy consumption and carbon efficiency in the upcoming years. Which pathways exist to transform international shipping towards the 2050 target?
New energy carriers have lower energy density than current solutions and thus require more space. What are the potential and opportunities within offshore charging and bunkering? How can we build new business models and which segments will need new fuel supply services? Which technical barriers must we overcome to find the most user-friendly solutions? What can we learn from previous offshore activities that help us realize new green opportunities at sea?
There are more than 1000 ships in the Norwegian short sea sector. To reach the 2030 target of 50% emission reduction in this sector, we must develop new and cleaner solutions – and we have to do it now! New energy carriers can play a substantial role in the green transition of short sea shipping, both for new and existing vessels. Which barriers need to be addressed? How can we develop the best infrastructure for supply? What are the technical barriers for integration onboard? And what about safety?
Cutting emissions from shipping requires both new energy solutions and smarter operations. How can we combine this into new innovations? What are the challenges for succeeding in the digital transition of the maritime industry? What are the possible operational gains from combining smarter solutions with energy efficiency measures and new fuels? Which role will future ports play in this?
CEO Hege Økland urges all cluster companies to register participants for this annual event:
– The 2020s will be a decade of transformation where new emissions standards and regulations will come into force. Decisions need to be made on new fuels, new technologies, smarter operations, and more sustainable production methods. The partners in Maritime CleanTech have the ability and knowledge to make an important contribution to the transformation, and the cluster's innovation workshop has proved itself to be an important enabler in this work.
Contact person: Project Manager Silje Sivertsen (silje@maritimecleantech.no).
Register here for participation in CleanTech labs in Rosendal from September 30th to October 1st.