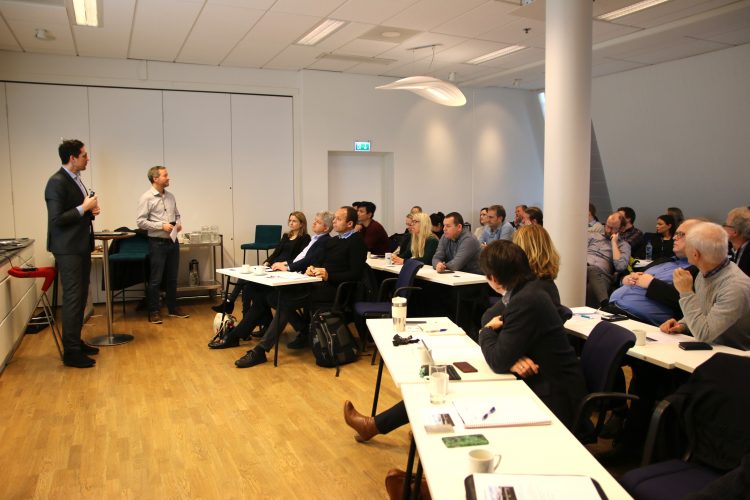 Initially Haugaland Kraft presented their innovative Utsira Island project. Among other cluster participants, Wärtsilä, SKL and Greenstat are project partners. The project objective is to implement several renewable energy sources to self-supply the island with power. CMR Prototech informed us about the Green Fish Farming project, which is funded by the cluster. The project focus on hydrogen production in relation to fish farming. In addition, CMR Prototech also presented their technology update on hydrogen-driven vessels. The R&D company is developing fuel cell technology for hydrogen driven vessels.
Safety and regulations are important topics that comes up in regards of maritime hydrogen usage. Both The Norwegian Maritime Authority and Lloyd's Register talked about how they work for improved hydrogen safety. The Norwegian Maritime Authority currently prepares regulations for use of hydrogen and fuel cells in maritime sector. Mapping of explosion risks, accidents and safety aspects of hydrogen are focused on by Lloyd's Register.
IFE has great experience when it comes to R&D on hydrogen, fuel cells and biogas. The R&D actor facilitates technology and research centers, and got FME funding from the Norwegian Research Council in 2016 for the research center MoZEES. Greenstat focus on commercialization and the market for hydrogen. They have many exiting ongoing projects. One of their project is the Hydrogen Viking pre-project aiming to convert a Sunseeker Predator 95 feet to hydrogen power. The Norwegian Public Roads Administration's development contract for a hydrogen ferry was also discussed during the seminar.
At the end, Innovation Norway, presented relevant public financing opportunities. The "Miljøteknologi" and "Grønn skipsfart" programs, are especially relevant for hydrogen projects. Innovation Norway encourage companies to get in contact with their advisors to discuss potential project establishments.
Read article in Ship&Bunker on this event.